Hello, I would like to share with you how I have prepared RYE seed for many years and it works for me.
It is a SOAK and SIMMER tek. but I feel it takes no more time then the No soak no simmer tek and with rye IMO NSNS is a very bad idea... to get the right moisture content you must hydrate rye before you load in jars and PC.
Rye is not cheap, I get mine for $1.70 a LB. or $45 for 50 lb. but it has its benefits over other grains.
The reason I like rye as a sub:
you can just pour the 100% colonized rye in a pan( with no other sub) let grow a few days, then case it and let it run the casing and then fruit, it think this makes it simple, and you can also use it as a spawn in bulk.
Rye seems to easily let large varieties of molds and fungi grow on it, better then other grains.(it is packed with nutrition)
Things you will need
Large pot
Rye seed (I use 3 lb. at a time, it fills 7 Qt jars.)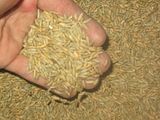 Cooking spoon
Colander
Lets go.
Rinse rye to get out some of the twigs and dust. Fill it will water to cover the rye by a couple of inches and sit on stove and SOAK for 12-24 hours.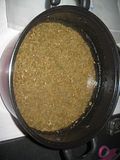 Next day you put stove on High and bring to a boil, once boiling reduce to a simmer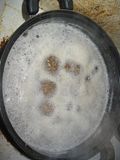 Depending on how much rye you have you will simmer for 20 to 30 min, stirring every couple of minutes til the first rye seed burst. I believe the seed burst is a indicator of Full saturation of the Rye seed.(only a few seeds should burst , but you just saw the first). I also eat the seed as it cooks, I can tell the point at which it is full saturation. Hard to explain the texture... till you try it this way and taste as you go to get a feel, its hard to describe.
Burst seed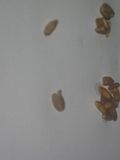 From Left to right
DRY RYE, 12-24 soak, half way thru simmer, Rye seed Burst
Once Simmered, pour in colander Rinse off with cold water to stop cooking.. let the rye sit and drain for a 1 1/2 hours I mix it up every 30 min to move trapped water to the outside to drain. when you touch the rye seed, it should not leave water on your hand.
Load the rye into your Jars and PC for 90 min at 15 PSI
Shake the Jars after you take them out of the PC, This will mix the rye that is dryer on top and wetter on rye bottom to even out moisture content (only have to shake once after PC).
Inoculate with you favorite Specimen.